Beschrijving
Mischa Maisky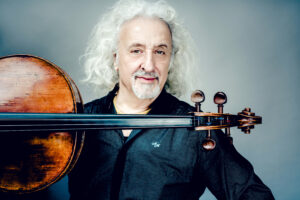 Mischa Maisky has the distinction of being the only cellist in the world to have studied with both Mstislav Rostropovich and Gregor Piatigorsky.
Rostropovich lauded Maisky as "… one of the most outstanding talents of the younger generation of cellists. His playing combines poetry and exquisite delicacy with great temperament and brilliant technique."
Born in Latvia, educated in Russia and later repatriated to Israel; Maisky has been enthusiastically received in London, Paris, Berlin, Vienna, New York, Tokyo and many other major music centres.  He considers himself a citizen of the world: "I'm playing an Italian cello, with French and German bows and Austrian and German strings, my 6 children were born in 4 different countries, my wife is half Sri Lankan-half Italian, I'm driving a Japanese and an American electric car, I wear an Indian necklace and a Swiss watch, and I feel at home everywhere where people appreciate and enjoy classical music."
Truly a world-class musician and a regular guest at most major International Festivals, he has collaborated with such conductors as Leonard Bernstein, Carlo Maria Giulini, Lorin Maazel, Zubin Mehta, Riccardo Muti, Giuseppe Sinopoli, Vladimir Ashkenazy, Daniel Barenboim, James Levine, Charles Dutoit, Yuri Temirkanov, Mariss Jansons, Valery Gergiev, Kirill Petrenko, Paavo Järvi and Gustavo Dudamel.
His musician partnerships have included artists such as Martha Argerich, Radu Lupu, Nelson Freire, Evgeny Kissin, Itzhak Perlman, Lang Lang, Anne-Sophie Mutter, Peter Serkin, Gidon Kremer, Yuri Bashmet, Vadim Repin, Maxim Vengerov, Joshua Bell, julian Rachlin and Janine Jansen to name just a few.
One of the highlights of his career was the year 2000. It was mainly devoted to a world-wide Bach tour of over 100 concerts! An expression of his deep admiration for this great composer is that Maisky has recorded Bach's Solo Suites three times, with his Cello Suite No. 1 being viewed more than 45 million times on YouTube.
As an exclusive Deutsche Grammophon artist for more than 30 years he made over 35 recordings with such orchestras as the Vienna, Berlin and Israel Philharmonics, the London Symphony, L'Orchestre de Paris, Orpheus Chamber Orchestra, Chamber Orchestra of Europe and others.
In 2018, the very personal album 'Adagietto' was released with his pianist daughter Lily, and featuring bonus live recordings with Martha Argerich, Janine Jansen, julian Rachlin and his violinist son Sascha. Included is a multi-track arrangement of Mahler's Adagietto from his 5th Symphony with Maisky playing all parts (except the harp), a project the cellist had dreamed of for many years.
His latest recording is entitled '20th Century Classics' and includes a Bonus CD of the world premiere of Benjamin Yusupov's cello concerto (dedicated to Maisky) as well as a multi-track recording of 'Bachianas Brasileiras' by Heitor Villa Lobos.
In June 2021 DG released a set of complete recordings with over 40 CDs.
Maisky's recordings have enjoyed world-wide critical acclaim and have been awarded the prestigious Record Academy Prize in Tokyo five times and the Echo Deutscher Schallplattenpreis three times, as well as the Grand Prix du Disque in Paris and the Diapason d'Or of the Year, as well as receiving several coveted Grammy nominations.
In 2018, as Maisky was awarded the 46th Istanbul Music Festival Lifetime Achievement Award, he was lauded as 'one of the greatest living cellists of our time' for his 'profound artistry and devotion to music'.
In 2019, he was awarded Honorary Membership of the Royal Academy of Music. This honor is limited to 300 living persons at a time, recognising Maisky alongside such greats as Mendelssohn, Liszt, Stravinsky and Casals.
In 2021, Maisky was appointed Honorary Academician of the Accademia di Santa Cecilia; founded in 1585, one of the oldest and most prestigious musical institutions in the world. The title of 'Accademico Onorario' is awarded to "the most outstanding foreign musicians and musicologists" and Maisky is only the second cellist ever to receive it.
In June 2021, Maisky received the Honorary Fellow Award of the Jerusalem Academy of Music and Dance.
Peter Santa
Half Irish, half Hungarian conductor Peter Santa was born in The Netherlands (1967).
Peter started playing a toy violin at the age of three and later studied at the Utrecht Conservatory. During his violin studies the Russian violinist Philipp Hirshhorn had the biggest influence on his musical and instrumental development.
He played many concerts as soloist, chamber musician and orchestral player. In 1989 – after having suffered some back problems – he took up conducting.In 1990 Peter won the Eduard van Beinum Conducting Prize at the Amsterdam Concertgebouw. This was the result of
his participation in an international master class/competition organized by the NOS (Dutch National Broadcasting Company) and the BBC. During this event the Dutch Radio Symphony Orchestra was orchestra in residence and Mr. Hiroyuki Iwaki was Artistic Director.
Mr. Iwaki invited Peter to come to Japan and Australia to assist him during productions with the NHK Symphony Orchestra, the Orchestra Ensemble Kanazawa, the Tokyo Symphony Orchestra (Peter appeared in a Mayazumi
concert televised nationally by Asahi Television), the Melbourne Symphony Orchestra and the Adelaide Symphony Orchestra. In Europe he assisted Mr. Iwaki in Cologne (Gürzenich Orchester) and Manchester (Hallé Orchestra).
From then on Peter worked as guest conductor in countries like Portugal, Hungary, Czech Republic, Poland, Germany, Russia, Italy, Norway, Rumania, The Netherlands, Austria, Slovakia and Macedonia. He made numerous recordings for radio and television and toured extensively (the repertoire he conducted ranged from Bach to Takemitsu and the world premiere of Ennio Morricone's massive cantata – three hours of music – 'Una Via Crucis' for orchestra, choir and soloists which was broadcast by Dutch national radio).
Recent guest appearances included concerts with the Norwegian Radio Orchestra (live concert broadcast for NRK and
the BBC), the Tchaikovsky Symphony Orchestra of Moscow (Mr. Fedoseyev's orchestra), a tour to Austria with the Budapest Philharmonic Orchestra (broadcast by the ORF) and the Slovak Philharmonic Orchestra.
In 2003 he founded and became Artistic Director and Principal Conductor of the Amsterdam Symphony Orchestra.
The orchestra has regular concert series at – among other places – its 'home' the Concertgebouw (Amsterdam), the Doelen (Rotterdam), the Philips Hall (The Hague), Vredenburg (Utrecht), tours on a regular basis (recently China and Germany including the Berlin Philharmonie) and records for Classix. The orchestra and Peter have been the subject
of two television documentaries and they have also frequently played concerts for Dutch National radio and television companies.
In 2010 Peter founded the Amsterdam Chamber Orchestra. This orchestra consists (in its most basic form) of twelve international string soloists and has the chamber music hall of the Amsterdam Concertgebouw as its home.
The orchestra tours with great soloists like Menahem Pressler, Augustin Dumay, Antonio Meneses and Helen Donath.
Next to his conducting Peter Santa is CEO of Codacapo Music Management, a music production company with over twenty years of (international) experience in organizing classical music events, recordings and tours. In 2018 Peter founded and became Director of the Blaricum Music Festival, a 'high end' – ten day – festival during which the top of the international classical music world comes to Blaricum (The Netherlands).