Beschrijving
Mischa Maisky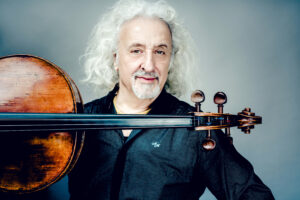 Mischa Maisky has the distinction of being the only cellist in the world to have studied with both Mstislav Rostropovich and Gregor Piatigorsky.
Rostropovich lauded Maisky as "… one of the most outstanding talents of the younger generation of cellists. His playing combines poetry and exquisite delicacy with great temperament and brilliant technique."
Born in Latvia, educated in Russia and later repatriated to Israel; Maisky has been enthusiastically received in London, Paris, Berlin, Vienna, New York, Tokyo and many other major music centres.  He considers himself a citizen of the world: "I'm playing an Italian cello, with French and German bows and Austrian and German strings, my 6 children were born in 4 different countries, my wife is half Sri Lankan-half Italian, I'm driving a Japanese and an American electric car, I wear an Indian necklace and a Swiss watch, and I feel at home everywhere where people appreciate and enjoy classical music."
Truly a world-class musician and a regular guest at most major International Festivals, he has collaborated with such conductors as Leonard Bernstein, Carlo Maria Giulini, Lorin Maazel, Zubin Mehta, Riccardo Muti, Giuseppe Sinopoli, Vladimir Ashkenazy, Daniel Barenboim, James Levine, Charles Dutoit, Yuri Temirkanov, Mariss Jansons, Valery Gergiev, Kirill Petrenko, Paavo Järvi and Gustavo Dudamel.
His musician partnerships have included artists such as Martha Argerich, Radu Lupu, Nelson Freire, Evgeny Kissin, Itzhak Perlman, Lang Lang, Anne-Sophie Mutter, Peter Serkin, Gidon Kremer, Yuri Bashmet, Vadim Repin, Maxim Vengerov, Joshua Bell, julian Rachlin and Janine Jansen to name just a few.
One of the highlights of his career was the year 2000. It was mainly devoted to a world-wide Bach tour of over 100 concerts! An expression of his deep admiration for this great composer is that Maisky has recorded Bach's Solo Suites three times, with his Cello Suite No. 1 being viewed more than 45 million times on YouTube.
As an exclusive Deutsche Grammophon artist for more than 30 years he made over 35 recordings with such orchestras as the Vienna, Berlin and Israel Philharmonics, the London Symphony, L'Orchestre de Paris, Orpheus Chamber Orchestra, Chamber Orchestra of Europe and others.
In 2018, the very personal album 'Adagietto' was released with his pianist daughter Lily, and featuring bonus live recordings with Martha Argerich, Janine Jansen, julian Rachlin and his violinist son Sascha. Included is a multi-track arrangement of Mahler's Adagietto from his 5th Symphony with Maisky playing all parts (except the harp), a project the cellist had dreamed of for many years.
His latest recording is entitled '20th Century Classics' and includes a Bonus CD of the world premiere of Benjamin Yusupov's cello concerto (dedicated to Maisky) as well as a multi-track recording of 'Bachianas Brasileiras' by Heitor Villa Lobos.
In June 2021 DG released a set of complete recordings with over 40 CDs.
Maisky's recordings have enjoyed world-wide critical acclaim and have been awarded the prestigious Record Academy Prize in Tokyo five times and the Echo Deutscher Schallplattenpreis three times, as well as the Grand Prix du Disque in Paris and the Diapason d'Or of the Year, as well as receiving several coveted Grammy nominations.
In 2018, as Maisky was awarded the 46th Istanbul Music Festival Lifetime Achievement Award, he was lauded as 'one of the greatest living cellists of our time' for his 'profound artistry and devotion to music'.
In 2019, he was awarded Honorary Membership of the Royal Academy of Music. This honor is limited to 300 living persons at a time, recognising Maisky alongside such greats as Mendelssohn, Liszt, Stravinsky and Casals.
In 2021, Maisky was appointed Honorary Academician of the Accademia di Santa Cecilia; founded in 1585, one of the oldest and most prestigious musical institutions in the world. The title of 'Accademico Onorario' is awarded to "the most outstanding foreign musicians and musicologists" and Maisky is only the second cellist ever to receive it.
In June 2021, Maisky received the Honorary Fellow Award of the Jerusalem Academy of Music and Dance.
Sascha Maisky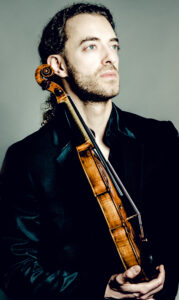 Sascha Maisky was born in Brussels on the 11th of May 1989 and began his violinistic studies at the age of three. His early professors include Leonid Kerbel, Leon Souroujon and Igor Oistrakh. At the age of twelve, the course of his musical education led him to the Purcell School in London where his Professors were Macej Rakowski and Evgueny Grach. Sascha performs Solo and Chamber works at prestigious venues such as the Berlin Philharmonie, Musikverein Vienna, Tonhalle Zürich, Queen Elizabeth Hall and Wigmore Hall as well as at the Verbier and Lugano Festivals alongside artists such as Martha Argerich, Janine Jansen and Yuri Bashmet. Sascha appears regularly in Trio with his father Mischa and sister Lily also performing Beethoven's Triple Concerto.  Sascha has had the privilege of receiving musical guidance from julian Rachlin, Maxim Vengerov, Felix Andrievsky, Itzhak Rashkovsky, Vadim Gluzman, Edvard Grach, Nam-Yun Kim and Dmitri Sitkovetsky. Having completed his studies in England with honors, Sascha then moved to Vienna where his Professor was Boris Kuschnir.
Lily Maisky
Lily Maisky was born in Paris, moving to Brussels soon after. She began playing the piano at the age of four, with Lyl Tiempo, also studying with Hagit Kerbel, Ilana Davids and Alan Weiss. Lily was a pupil at the "Purcell School of Music" from 2001 till 2005 where she also studied jazz piano. She has received master classes and musical advice from renowned artists including Martha Argerich, Dmitri Bashkirov, Joseph Kalichstein, Pavel Gililov and Vitalij Margulis to name a few.
Concert appearances have taken her throughout Europe and she regularly tours the Far East, North and South America. Lily has been invited to many of the great festivals such as the Verbier Festival, Progetto Martha Argerich in Lugano, the Edinburgh Festival, Miyazaki Festival, Maggio Musicale Fiorentino, Bergamo-Brescia, the Beijing Piano Festival, the Franz Liszt festival in Austria, julian Rachlin and Friends in Dubrovnik, Rencontres de Bel Air in France, Gstaad Festival, the Schlesswig-Holstein Music Festival as well as the Berlin Festival and many others.
She has had the privilege of performing concertos under the batons of maestros Leonard Slatkin, Thomas Sanderling, Gerd Albrecht, Gabor Takacs-Nagy, Daniel Raiskin, Alberto Veronesi, Jack Martin Händler, Josep Caballé-Domenech, Enrique Diemecke and Charles Olivieri Munroe, amongst others. She has also performed in such prestigious venues as the Royal Festival Hall in London, Vienna's Musikverein and Concerthaus, Munich's Prinzregentheatre, Hamburg's Leiszhalle and Elbphilarmonie, Berlin's Konzerthaus, Venezia's La Fenice, Bonn's BeethovenHalle, Tokyo's Suntory Hall, Rome's Teatro Olimpico, Moscow Conservatory, Saint Petersburg Philarmonie, New York's Carnegie Hall, Seoul's Performing Arts Center, Athens Megaron, Palais des Beaux-Arts in Brussels, the Liszt Academy in Budapest, Essen Philarmonie, Auditorium de Lyon and Teatro Colon in Argentina among many others.
Lily has released several recordings for Deutsche Grammophon, EMI and Belgian label Avanti Classics, has been frequently broadcasted on European and Asian radio and television, as well as featuring in several documentaries. Her latest release on Deutsche Grammophon, "Adagietto" is a special compilation of live chamber works with the Maisky Trio, Janine Jansen and julian Rachlin as well as some studio recorded transcriptions with Mischa Maisky. An album of 20th Century works with Mischa Maisky is planned for 2019 and many other exciting projects in the making.
Lily has a predilection for chamber music and forms a regular duo with Mischa Maisky, as well as the Maisky trio with her brother. She has also performed with such artists as julian Rachlin, Janine Jansen, Dora Schwarzberg, Renaud Capuçon, Maxim Rysanov, Gérard Caussé, Chantal Juillet, Sergey Krylov, Martha Argerich, Nicholas Angelich, Frank Braley, as well as Philippe Quint, Alissa Margulis, Hrachya Avanesyan, Geza Hosszu-Legocky, Boris Andrianov, Isztvan Vardai, Alexander Mogilevsky, Orfeo Mandozzi, Alena Baeva, Boris Brovstyn and the Szymanowski Quartet.
Lily is a Steinway Artist and the proud owner of the last instrument of the legendary Arturo Benedetti Michelangeli.

"Lily Maisky establishes her credentials as an exceptional pianist" BBC Music
Magazine
"Lily Maisky played with grace, vigour and composure proving how well rounded a musician she is." Musical Criticism, Edinburgh International Festival 
"As an experienced, sensitive but independent young pianist, Lily Maisky presented herself in Munich's Prinzregententheatre as highly talented." Süddeutsche Zeitung
Images: Andrej Grilc